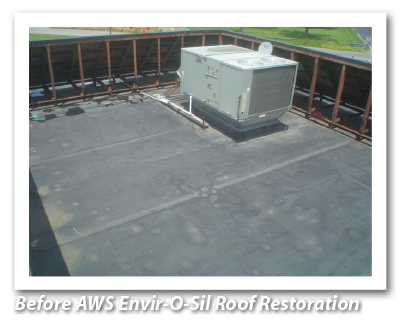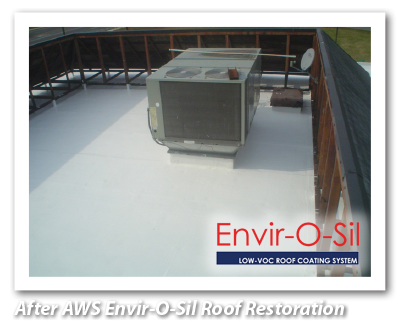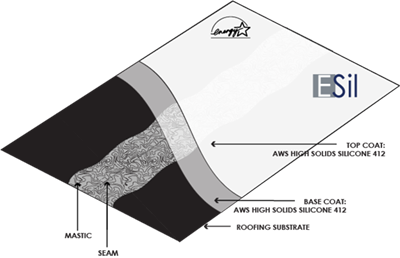 The Process
It is important to review application guidelines for each specific roof, as coverage rates do vary, but the process of installing either Envir-O-Sil System remains fairly consistent for each of the suitable substrates:
Pressure Wash
Look for problem areas
Apply an appropriate AWS Primer if and as needed
Waterproof splits, transition areas, penetrations, and any area of concern with one of AWS's flashing grade materials
Apply the AWS High Solids Silicone 412 Base Coat
Apply the AWS High Solids Silicone 412 Top Coat



Our Warranties Set Us Apart
Low VOC and Eco-Friendly Alternative for Sealing and Protecting Almost Any
Commercial Roof
The American WeatherStar (AWS) Envir‑O-Sil environmentally friendly roofing system is a low VOC and fluid applied, designed by AWS to restore and protect just about any commercial roofing substrate on the market today. AWS designed this system based on the proven performance of the system's core component: AWS High Solids Silicone 412.
• Download the AWS Envir-O-Sil Brochure
Many building owners are not aware that roof restoration is an intelligent alternative to roof replacement. Most roofs can be restored for a fraction of the cost of a new roof and can be sustained indefinitely. Urethane and silicone roof coating systems are being used by companies of all sizes to waterproof and cool their buildings and improve their bottom lines.
Learn more here:
Benefits of the AWS
Envir-O-Sil Environmentally Friendly Roof Restoration System:
Environmentally Friendly
VOC Compliant in all 50 States
Approved to Withstand Ponding Water
Excellent Reflectivity
Sustainability
Superior UV Stability
Single Component Product
Labor Saving Application Method

Types of Roofs the Envir-O-Sil System Can Seal and Protect:
Modified Bitumen
Smooth Built Up
Concrete
Spray Polyurethane Foam
EPDM
TPO
PVC
Sustainable Roofing System Warranties
We offer optional long term material and sustainable system warranties on most roof types for all AWS systems we install.